Let's transform your Restorative Dentistry, together online

Join 85,000 dentists from around the world who are growing their confidence, skills and income with our new online training techniques.
Master Restorative Dentistry From your Home or Clinic
Our restorative courses consist of a minimum 20% hands-on training - more hands-on training than any other course - as well as the latest theory and literature reviews.
RipeGlobal incorporates a unique curriculum method that trains dentists against the stressors of the profession. This dramatically alters the amount of day-to-day stress dentists experience in their practice.
RipeGlobal Fellowship courses are entirely cloud-based and delivered through our unique platform. Our ratios of teachers to students ensures that every student will receive greater tuition, access to educators and feedback compared to in-person courses.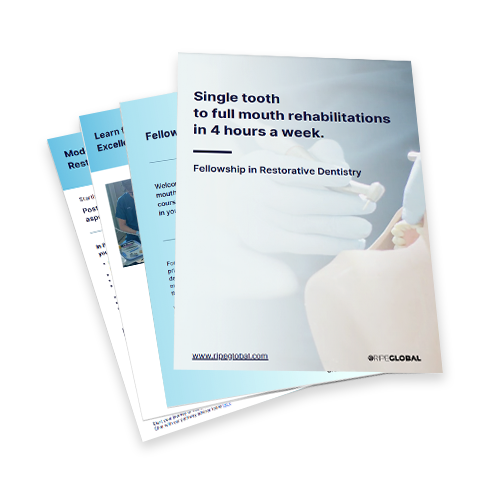 Want to find out what the Fellowship in Restorative Dentistry is all about?
Download the information pack today.
The Fellowship in Restorative Dentistry is a curated course designed to teach you greater predictability, make you feel confident with your skillset and help you ensure safe outcomes for your patients. It's intense, involved, hands-on and exhilarating... all experienced through industry-leading simulation from the comfort of your own home or clinic.
Our cloud-based Bootcamps are designed so that you can quickly and effectively up-skill your dentistry. Allowing you to safely improve your dentistry without having to close down your clinic or sacrifice time with your patients or family in order to complete training.
Master posterior restorations to deliver superior quality predictable results and beautiful aesthetics. Practice Mindaugas's Borders Technique on virtual models to make your restorations look stunningly natural. Learn to see what you can't see right now.
Learn how to strike a balance between speed, efficiency, and quality. Manage anxious patients with ease. Master situations such as when tissue continues to bleed and you can't get the matrix on. Become more efficient with your preps without compromising speed for quality. Learn how to isolate teeth without negatively impacting efficiency or effectiveness.

We've taken world-class educators, developed lectures that are aimed at solving common core-level problems and bundled them into a variety of Fundamental Lecture Packs - each focusing on different dental disciplines. You can expect effective education that can be implemented in your clinic the very next day and the ability to learn at your own pace.
Register your interest for the upcoming 'Aesthetic Crown Lengthening' series with Dr Lincoln Harris.
Register your interest for the upcoming 'Basics of Sutures' series.
Join our community
Join the online education platform with 50+ master educators and a community that's loved by over 85,000 dentists.
RipeGlobal Membership
RipeGlobal is created by dentists, for dentists. We have been there too! Like you we realise the importance of learning from the successes and failures. With 100+ hours of lectures and clinical videos, take your dentistry tp the next level wit ha RipeGlobal membership.