Learn full-mouth Restorative Excellence, in 4 hours a week

The Fellowship in Restorative Dentistry will help you learn predictable full-mouth restorative dentistry with online hands-on training, from some of the best dentists in the world.
Pay online to secure your position
Enrol via a Pathway Advisor consultation

Learn for 70% less
Flying to a facility, hotels and time away from your family, hobbies and clinic is expensive. RipeGlobal uses revolutionary online training techniques, and it costs a lot less.
Expert educators
Our educators are some of the best in the world - who have now shifted to virtual online training as it is simpler, safer and the results are even more remarkable.
Just 4 hours a week
Improving your restorative skills with RipeGlobal only takes4 hours a week on average. Some weeks are more intensive, but we aim to make up-skilling 100% attainable.

Course dates
Starts February 2023

CPD available
500 CPD/CE points

Study hours
4 hours per week approx.
ENROL NOW AND SAVE!
Secure your place before November 30th and receive 15% OFF any Fellowship course.
Can be used in conjunction with Premium Membership - Fellowship pricing to receive a total of 25% off any Fellowship course.
Talk to us today to start your learning journey.
Enrol online today
Tuition Inclusions and Payment Options

The rental simulation kit and consumables (4x teeth) are also included in the course tuition costs. Equipment packages are not included in the Tuition fees. You will be provided with links to RENT OR BUY the equipment kit closer to the course start date.

If you are a Premium Member, log in to your account and refresh this page for your 10% discount (up to AUD$3,113)

To discuss payment options...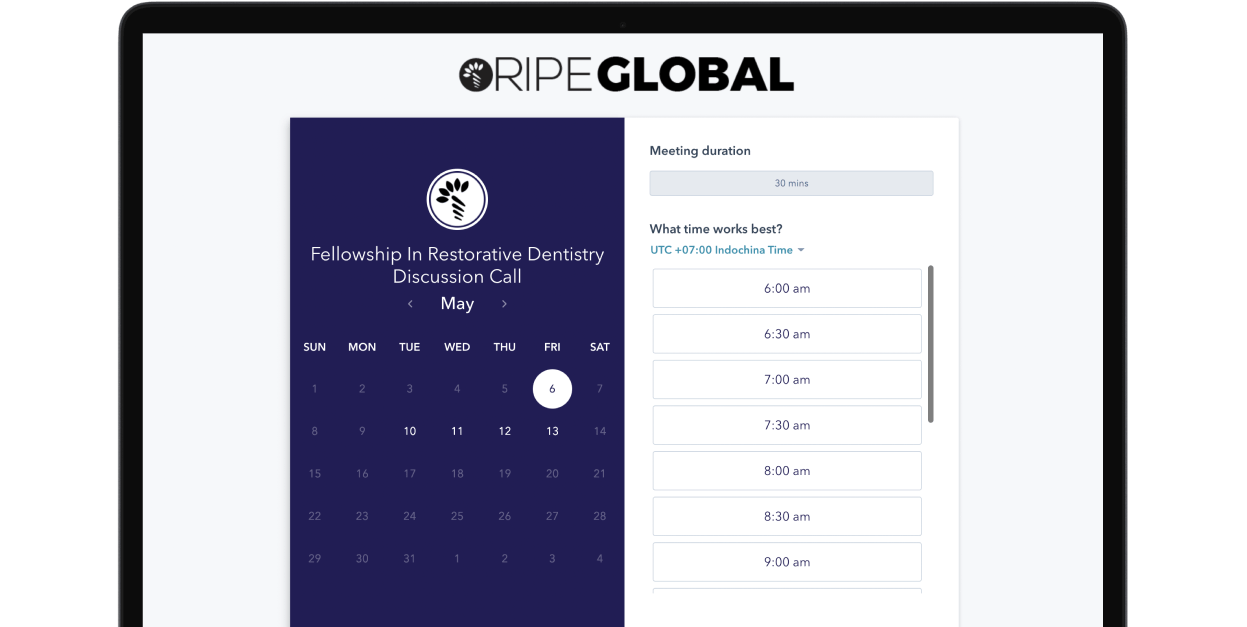 What is the Fellowship in Restorative Dentistry?
The Fellowship has taken restorative dentistry and broken it down into the four major areas that we approach patients in; Posterior and Quadrant, Anterior, Veneers and Aesthetics and finally, Full Mouth Rehabilitation.
The courses are designed to build skills in a logical sequence so that you are genuinely competent and confident when you finish.
The fellowship is run over two years and sold as a sequence of four courses that may deliver a greater impact and learning outcome than each course would individually.
The purpose of this course is to allow patients to get safer, better outcomes through dentists being trained to be competent and confident.
Do I need to travel for the Fellowship?
The Fellowship is designed to be delivered virtually, 100% travel free and you get to study from the comfort of your own home or clinic!
Can I pay via bank transfer?
Yes. We can send you an invoice with bank details for payment. Send us an email to request an invoice.
Can I pay off the cost of the Fellowship?
Yes, easy monthly payments are available so you may pay off the cost of the tuition and equipment. You even have the option to rent the equipment if you wish. Ask your Pathway Advisor for further details.
We also have engaged a Medical Finance company for registered Australian dentists only, that is tailored to every client, who can spread this out over several years. Ask your Pathway Advisor, and we will put you in contact with them.
Can I attend just one or two modules?
We have created the Fellowship as a logical learning sequence, the Fellowship is sold as a four module continuum.
However, YES, we offer the modules as individual courses, when there are places available. However those doing the full course will be offered priority. Please register your interest to receive an update .
Posterior and Quadrant - Available Now - click here
Anterior - click here
Veneers and Aesthetic Dentistry - click here
At this stage, the only course that will not be offered individually is Full Mouth Rehabilitation. This is only for those who have completed the first 3 modules (Posterior, Anterior and Veneers and Aesthetics).
Can I talk to someone directly?
Yes. Please contact one of our helpful Pathway Advisors for any questions:
Contact a Pathway Advisor
Europe (Estonia) +372 602 6780
New Zealand +64 800 493 630
United Kingdom +44 7402 127 473
How will the hands-on days work?
You will be connected to your cohort and educator through world-class hardware and software, so that you can communicate directly with your educator using multiple camera angles that allow us to see exactly what you are doing over the shoulder, and for us to demonstrate techniques to you one-on-one.
We have found in our testing that we generally have a better view of what you are doing than we used to with looking over shoulders with a live course.
It's not just easier. It is better! Watch how easy it is for you to interact and collaborate with your educator and other students.
How do I access the course learning materials?
At the beginning of the module term during orientation week you will receive access (via a welcome email with instructions) to all the learning materials and timetable.
How will I receive feedback during the Fellowship?
You can talk to your educator to ask questions.
You and your cohort have multiple opportunities to work together in small groups.
Your educator will observe your work and offer feedback, instructions, and one on one demonstrations which we are famous for, during hands-on sessions and assessments.
I am not confident with technology, is there support?
We have spent a lot of time developing the technology and resources to be simple to implement.
During orientation you will gain access to instructional videos and a step by step guide on how to set up your mannequin equipment and cameras.
Our team will be able to help you through the initial set up if you have any issues.
What if I have to cancel?
Can I purchase the Lectures only without the hands-on?
We understand the Fellowship could be a big undertaking for your personal circumstance.
Yes, you can attend the lectures without purchasing the full fellowship. You have two options; (1) purchase all four module lectures Posterior and Quadrant, Anterior, Veneers and Aesthetic Dentistry and Full Mouth Rehabilitation or (2) purchase individual lecture modules. Either way you may attend Live Virtually to watch the Lectures or watch the Recordings.
Please talk to a Pathway Advisor for more information and please make sure to register your interest using the form below so we can keep you updated if we release this option in the future.
CPD/CE credit will be issued at the end of each module. A Universal certificate is available for all countries.
What is included in the hands-on Equipment Package?
The Hands-on Equipment Package for you to purchase in addition to the course tuition is:
1 x Mannequin head & case

4 x full sets of resin teeth (extra sets available for purchase)

1 x model

Warranty is per terms and conditions

Freight rate is calculated and displayed at the purchase cart
Electric Dental Motor - with high and low speed hand pieces

Additional teeth sets will be available for purchase separately
NOTE: This same Equipment Package can be used for all RipeGlobal courses in the future and is yours to keep.
Is it mandatory to purchase or rent the Equipment Package from RipeGlobal?
If you already have equipment please contact us to ensure it meets the minimum requirements for the best learning experience. Speak to your Pathway Advisor.
Is there a warranty on the required equipment I purchase for the course?
There will be no warranty for general wear and tear, or misuse of damage. A warranty is offered for the mannequin head, electric dental motor and hand pieces for one year.
Please see warranty terms and conditions - Click here to read
Will I need to provide anything to undertake the Fellowship?
Yes, please check the consumables and instrument list for module requirements.
In most parts of the world, you can access these from your normal channels at lower cost than we can, even with corporate sponsorship.
To focus on our vision of making education more available and accessible, it is more efficient for you to acquire your own consumables.
We also want to avoid teaching you on a material that you will never use.
We are happy for you to substitute your own brand if you prefer, as it is about technique more than materials.
What are the assessment activities for each module?
Each module is composed of various assessments and may include one or more case presentations including clinical photography and treatment planning documentation, hands-on tasks, written literature reviews, time bound quizzes or exams and are weighted accordingly.
During orientation week you will receive your module outline including assessment guidelines, timeline and requirements.
What is involved with case presentations?
You are required to photograph clinical procedures from your current patient base. You will learn simple step by step protocols to implement photography into your everyday dentistry. These techniques will help you communicate treatment plan options to patients, document clinical workflows and eventually make your dentistry more efficient. As part of assessment you will add photos to a powerpoint or keynote and submit for marking.
When are the hands-on sessions?
There are two hands-on sessions per module, run on a Saturday or Sunday depending on your time zone, these sessions are compulsory to pass the module. If a hands-on session doesn't suit your schedule you can choose one in a different cohort time zone. Contact your Pathway Advisor.
Do I need to attend all lectures and question and answer sessions live or will they be recorded?
All weekly lectures and question and answer sessions are held and rotated through different time zones so you can attend the time that suits you best. If you can't make it live, you can watch the recording. We understand how busy clinic life is, our educators are practicing dentists too. In order to complete assessment requirements you will however need to attend 50% live. Dates will be published in advance.
How many contact hours per week is expected?
Each of the four modules is broken up into 12 weeks of learning with 2 months break between each module. The average contact hours per week with your educators is approximately 3. This includes 1 to 2 hours of lectures and question and answer sessions held in the evening and hands-on days held on the weekend.
Does RipeGlobal have Accreditation or Affiliations?
Yes. RipeGlobal is an approved PACE Academy of General Dentistry provider for Continuing Education.
RipeGlobal
Nationally Approved PACE Program Provider for FAGD/MAG credit.
Approval does not imply acceptance by any regulatory authority or AGD endorsement.
9/1/2020 to 8/31/2022.
Provider ID# 386578
Is this course affiliated with a University?
RipeGlobal Fellowship courses are NOT accredited with a university, and here's why:
Our courses are boldly unique and delivered in pioneering ways. We would not have the flexibility to create paradigm-changing education if we were affiliated with a university.

Our curriculum is skills-focused and underscored by human factors and fail first training methods, as opposed to theory-heavy courses one finds in universities.

The cost of becoming affiliated with an institution would double or (likely) triple the cost of the course, without providing any further benefit to our students.

Becoming accredited with a university would potentially circumvent our mission which is to provide the highest quality dental education in the world that is affordable and accessible to all dentists so they can become confident and competent, and keep their patients safe.

While affiliation might be impressive to your resume, it will not necessarily make you a better dentist, as a high number of universities offer programs with almost no hands-on training.
RipeGlobal has taken inspiration from the historical way medical colleges and universities use the term in the United States, where a fellow is a medical professional or (in our case) dentist who has completed their undergraduate studies, and is currently enrolled in a 1 to 3 year subspecialty training program, such as our Fellowship in Restorative Dentistry.
What is a RipeGlobal Fellow
A fellow is a licensed practicing dentist who is undertaking one of RipeGlobal's two year specialty courses, such as the Fellowship in Restorative Dentistry. A fellowship is optional education, and is not required in order to practice dentistry, but is necessary when a dentist wants to specialize in a particular area of dentistry, or endeavours to become a master dentist.
What are the RipeGlobal Fellow standards?
Competence of Skill and Knowledge
The Fellow Standards requires that students who are enrolled in RipeGlobal fellowship courses achieve a pass grade of 700 points out of 1000 points.

Students need to attend 50% of lectures and interactive question and answer questions in-person which allows the student to attend 50% of recorded lectures at a time that suits them during the same week that the lecture was delivered.

Students need to attend 100% of the hands-on sessions.
Character
To be a RipeGlobal Fellow, students are required to maintain professional behavior during course lectures and hands-on components, and be respectful to fellow students during meetings. RipeGlobal is a safe learning space for people of all genders, cultures, and religions. We feel very passionate about creating a safe place for all people to become the best dentist they can be. We reserve the right to remove students who threaten or intimidate other students.
I'm NOT a highly skilful dentist so will this course be beyond my skills at the moment?
Our Pathway Advisor will spend time with you to make sure you are going to be successful in the Fellowship. We want to see you grow and advance your skills and feel more confident in your work.
Will I receive a Certificate?
Yes. You will receive a digital CPD Certificate on completion of each module. To achieve a RipeGlobal fellow status and receive your plaque at graduation you must successfully pass your assessment for Fellowship in Restorative Dentistry.
What about Internet Network Connection?
Students require their own internet connection with adequate quality and speed to perform the equivalent of a high resolution Video call for the duration of any live elements of the course.