Learn Full Mouth Restorative Excellence, in just 4 hours a week.
August intake open for enrolments
Book a call with a Pathway Advisor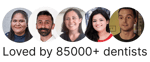 What you'll learn in this course:
The purpose of this course is to enable you to provide safer, superior restorative dentistry through our unique training methods. You will also be vastly more competent and confident upon completion. This course is heavily focused on the procedures that you can implement into your clinic as you work through the course, growing your skills and muscle-memory.
Posterior Quadrant - Indirect & Direct
Posterior dentistry is designed to bring competence in all aspects of quadrant multi and single tooth dentistry.
Some of the topics covered are:
Aesthetic Dentistry - Indirect & Direct
Aesthetic dentistry is designed to build on the foundation of restorative taught in posterior, but to add in the detailed aesthetics that become important in the smile region.
This course will give you a thorough understanding of:
Veneers - Ceramic & Direct Layered
The veneers module is designed to build confidence and understanding with both composite and ceramic veneers.
The course is designed to help you:
Full Mouth Rehabilitation
Building on the three previous modules, we will now develop competence in a full mouth rehabilitation.

Ready to learn restorative excellence?
Join the online education platform with 50+ master educators and a community that's loved by over 85,000 dentists.
Student Feedback
Their experiences, their outcomes, their recommendations
Hands-on Experience
The hands-on portion of the Fellowship was something I had read about, but I couldn't visualise until I did it the first time. There was a wonderful silver case of joy. When you get it set up and look at it in your clinic for the first time, you really think this is seriously well thought out.
Be Inspired
I got inspired directly by Lincoln. I got really interested because I've never wanted to go back to school, and this was the perfect option to do clinically relevant and practise-oriented learning.
Practise, Repeat, Retain
The experience of doing the hands on course from my office has been one of the biggest benefits. Not only am I more relaxed because I'm in a known setting and I can do as much or as little preparation before the course to get myself ready and then when I'm there I get to do the course work that's asked of me but then I understand and I have the setup that I can replicate that time and time again.
Revolutionary teaching methods
Most dentists suffer from stress and anxiety at some point of their career. That's because dental education does not provide enough repetition to build your muscle-memory.
That's why Dr Lincoln Harris, our founder, and our educators are teaching dentists all over the world through new virtual techniques. The results are simply remarkable.

RipeGlobal education also costs about 70% less.
Trusted by students around the world
The Fellowship in Restorative Dentistry is a fantastic way to reignite your passion for dentistry and connect with like-minded peers from around the world.

Our famous community chat spaces are incredibly supportive and allow you to seek feedback, advice and support from educators and dentists around the world.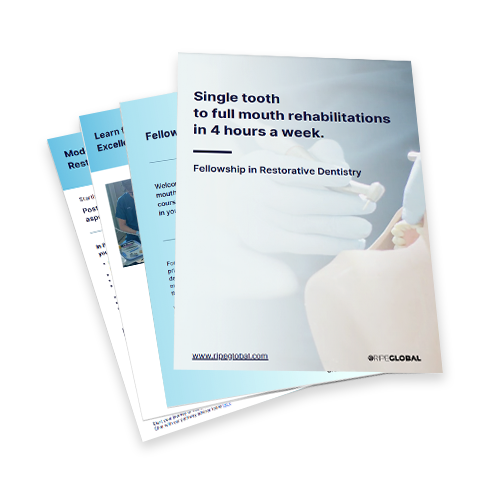 Want to find out what the Fellowship in Restorative Dentistry is all about?
Download the information pack today.

Learn for 70% less
Flying to a facility, hotels and time away from your family, hobbies and clinic is expensive. RipeGlobal uses revolutionary online training techniques, and it costs a lot less.

Expert educators
Our educators are some of the best in the world - who have now shifted to virtual online training as it is simpler, safer and the results are even more remarkable.

Just 4 hours a week
Improving your restorative skills with RipeGlobal only takes 4 hours a week on average. Some weeks are more intensive, but we aim to make up-skilling 100% attainable.
Want to talk to someone?
Our pathway advisors are here to help. If you have any questions about the Fellowship in Restorative Dentistry and want to talk to someone, you can book a meeting.
What are the time commitments required?
We expect an average time commitment of approximately 4 hours per week, which can be roughly thought of as 1 "event" per week - whether that is a lecture, a Q&A session, a piece of theory work or a hands-on
How do the hands-on days work exactly?
The hands-on days are designed to be highly intensive instructor-led practice sessions. You'll be connected via a video platform with all of your fellow students and educators - either from home or from your clinic - working on a manikin head as we guide you through a series of tasks and activities, offering 1 to 1 feedback as we go.
To use the Posterior Quadrant course as an example, we may begin the session by asking you to do a crown prep on a particular tooth and give you 20 minutes to do the best job you can. Once you've done the prep we will get you to take some pictures of the work that you've done and upload it to the digital space, where the educator will take a look at it with you in detail and offer feedback on what looks good, what could be improved, and what techniques to work on going forward.
From there, we'll get you to move on to another tooth and repeat the exercise, and we'll do it again and again and again, to the point where in a 6-7 hour session you may find yourself doing 12, 15 or even more crown preps back to back.
It's no secret that one of the goals we have in these sessions is for you to be tired by the end of it - part of the goal that we have in trying to create a realistic simulated work environment is that sometimes you won't be working at your most fresh!
How many students are in the Fellowship?
While we don't have a hard limit on the number of students who can enrol per se, we do work on ratios of no more than 1:16 educators to students when we are doing instructor-led practice, so no matter how many students we end up with when the Fellowship kicks off you can be sure that you are getting the proper amount of interaction and feedback when it matters.
Who are the Fellowship educators?
We have educators from all over the world contributing to this Fellowship, all master dentists in their own right, bringing a great diversity of knowledge and experience with them.
We have Dr Lincoln Harris and Dr Michael Frazis from Australia, Dr Michael Melkers, Dr Lane Ochi and Dr Karyn Halpern from the USA, Dr Vishal Gupta from India, Dr Alina Ruzanova and Dr Mindaugas Kudelis from Europe, among others.
View the full list of educators and assistant educators here.
What kind of equipment do I need?
The hands-on components for the courses will all be run using a typodont in a manikin head, which will be provided by RipeGlobal. You can use all of your own standard equipment from your clinic to do the actual work, or if you are wanting to set up from home we can also provide the air/water unit with hand-pieces.
The equipment costs are not covered in the tuition and will need to be arranged after enrolment - we have options available to either rent or purchase the kits, and if purchasing we also have payment plans available.
You'll also need access to a DSLR clinical camera, as this will be crucial for presenting your work.
How does this work online?
The Fellowship in Restorative Dentistry is a comprehensive cloud-based training program which is brought to you entirely in your own home and clinic - no travel necessary.
The course delivery consists of a series of lectures of Q&A sessions which are delivered live via video platform, but which are also recorded and can be watched and rewatched later at your own convenience.
We will also be enrolling you into our community chat space, called CELXP™ Collaboration, where you'll be connected with your fellow students, educators and support staff in a 24/7 live-chat environment. You can use this space to ask questions and get advice and feedback at any time, not just for Fellowship work but also with anything you might be dealing with in your practice that you'd like a second opinion on. CELXP™ Collaboration is also used as a general social community space for you all to get to know each other outside of being purely Fellowship focused, as it's a long program and you'll be seeing a lot of the same faces!
We will also be giving you some theory work and reading to do, as well as asking you to complete some quizzes and case presentations.
Finally, the linchpin that really brings it all together are the high-intensity instructor-led hands-on practice sessions in which all of the other learning will come together in that live practice environment.
We have a few payment options available, either to pay in full upfront, split pay 50% now and again in 12 months, or a monthly payment plan over 24 months.

We also have special offers on the cost of tuition for RipeGlobal members - with 10% savings for premium!
Download the full course pack for pricing and tuition costs.
Dr Michael Frazis
Dr Frazis enjoys cosmetic work, digital dentistry, complex surgery and teaching dentists on how to manage nervous patients.
Dr Priti Lamba
Dr Priti is knowledgeable about smile designing with ceramic veneers keeps herself updated with the latest advances in dentistry.
Dr Rhea Allsopp
Dr Rhea has a degree in medical science and enjoys using advanced dentistry technology to provide optimal outcomes for her patients.
Ready to learn restorative excellence?
Join the online education platform with 50+ master educators and a community that's loved by over 85,000 dentists.