Fellowship in Periodontics
Learn predictable dentistry with online hands-on training, from some of the best dentists in the world.
Register your interest to be the first to know more information about the course when it's available.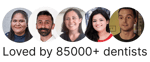 Master Implant Dentistry, Online
Do you have the skills to help your patients retain beautiful, healthy teeth into old age?
The needs of your patient's change as their years advance. More periodontal surgeries are required so that your aging patients can maintain their healthy teeth and gums.
In order to provide the most excellent care, you will need to expand your skills and the list of procedures that you can offer in your clinic and include resective and regenerative techniques, crown lengthening, and implant management.


RipeGlobal's Fellowship in Periodontics course is a 2-year-long course that is delivered entirely on our award-winning cloud-based platform. Study periodontics outside of your clinic hours.

RipeGlobal's periodontics course focuses heavily on hands-on training that is proven to build real confidence and skill.

The Fellowship in Periodontics offers community support 24 hours a day so you are fully supported and never left with queries unanswered.

Learn for 70% less
Flying to a facility, hotels and time away from your family, hobbies and clinic is expensive. RipeGlobal uses revolutionary online training techniques, that cost a lot less.

Expert educators
Our educators are some of the best in the world - who have now shifted to virtual online training as it is simpler, safer and the results are even more remarkable.

Just 4 hours a week
Improving your periodontic skills with RipeGlobal only takes 4 hours a week on average. Some weeks are more intensive, but we aim to make up-skilling 100% attainable.
Revolutionary teaching methods
Most dentists suffer from stress and anxiety at some point of their career. That's because dental education does not provide enough repetition to build your muscle-memory.
That's why Dr Lincoln Harris, our founder, and our educators are teaching dentists all over the world through new virtual techniques. The results are simply remarkable.

RipeGlobal education also costs about 70% less.