Dr Lincoln Harris introduces the most comprehensive crown lengthening course ever!
To be released in stages over the coming months, this 5 part series will teach you everything you've ever needed or wanted to know about Aesthetic Crown Lengthening
Part 1 - Where Should You Use Crown Lengthening?
Altered passive eruption
Balancing grafting
Adjacent to implants
Uneven gingiva
Gummy smile
Over-eruption
Part 2 - Treatment Planning
Patient goals
Planning
Back up plans
Risk analysis
Retain or refer
Mockups and guides
Consent
Part 3 - Surgical Methods
Papilla management
Gingivectomy
Pericervical incisions
Flap elevation
Bone removal and guides/measurements
Suturing methods
Post op care
Part 4 - General Surgical Details
Incisions
Instruments and flap elevation
Tissue management and hydration during surgery
Managing bleeds
Suction and irrigation techniques
Assisting surgery
Documentation
Medications
Part 5 - How it Heals
Physiology of incision healing
Physiology of bone removal and healing
Blood supply of peri-gingival tissues
Anatomy
Tissue attachment to teeth
Healing time frames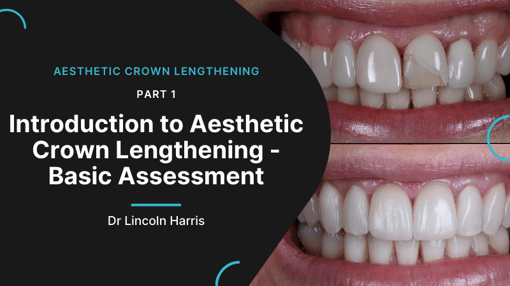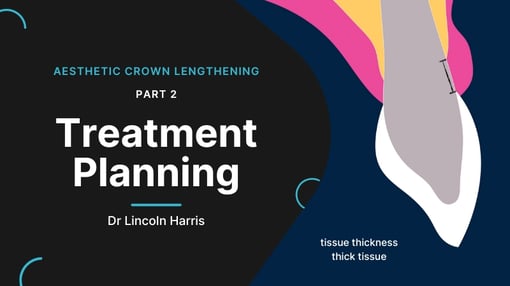 Dr Lincoln Harris
Treatment Planning
Aesthetic Crown Lengthening Part 2
Specifics of choosing gingivectomy, crown lengthening with resective soft tissue, and crown lengthening with non resective techniques.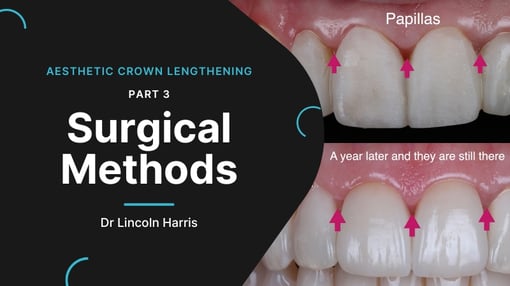 Dr Lincoln Harris
Aesthetic Crown Lengthening
Aesthetic Crown Lengthening
How to get accurate incisions, how to do the incisions, flap raising without scarring, bone removal and then suturing.