Your biggest cost, and your biggest opportunity, are your associates.
Businesses grow by increasing the volume or value of the product or services they sell. In dentistry, once a dentist is fully booked, the opportunity to grow either comes from increasing valuable units of dentistry, increasing treatment plan size, and acceptance rates.
So, it doesn't matter how much effort you put into getting new patients, your facilities, branding, or technology. At the end of the day if your associate does not have the confidence and competence to treatment plan and deliver, all of your efforts will be wasted.
Our fast track program will help you achieve this.
It's all based on confidence and competence.
Your associate's confidence and technical competency is on display when recommending any treatment plan to thier patients - which effectively means they are always selling.
They will get greater patient outcomes when they're confident.
To become competent and confident in a procedure requires a large amount of practice. When is your associate getting this practice? Because it wasn't at university. Chances are it's not in the clinic either.
If your associate lacks confidence and competence, they can't sell their skills, and you've lost treatment plan opportunities before the patients have even walked in the door.
These are the people who need to turn your customers into raving fans, who feel confident accepting the best treatment plan possible and go on to spread positive word-of-mouth.
We want to get your associate's case acceptance rate increased for the benefit of themselves and your clinic. We can do this quickly and confidently.
Confidence = Trust = Increased Fees
OBJECTIVE: Maximise Your Production Per Chair Hour + Give Great Patient Outcomes
Step 1: Diagnosis
Find out where your associate needs to build skills and confidence!
RipeGlobal's Dental Clinician Development Tool uses advanced algorithms to identify accurately which areas of learned improvement would lead to maximum performance enhancement and confidence, all in a constructive, non-confrontational way.
It is quick and can be easily used no matter how many dentists you employ. You'll get an honest appraisal using both subjective inputs like what they feel comfortable with, along with hard metrics like treatment plan size and units done per month.
This is the first time a practice can easily and comprehensively work out individualised growth pathways for every dentist, track their progressive results and keep them accountable.
Take your clinic to new heights and drive practice growth fast.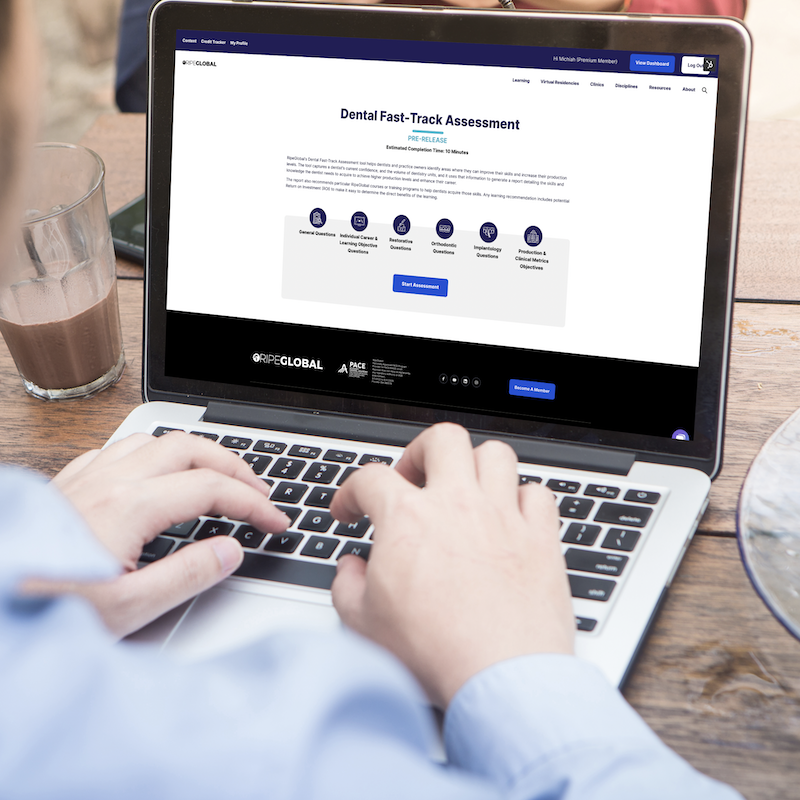 Step 2: Program Customisation
The program is tailored specifically to the unique needs and requirements of the associates based on the results from our Clinician Development Tool and direct consultation with associates. Using multiple points of feedback, we can ensure that it is perfectly suited to your situation while also taking into consideration the number of associates involved.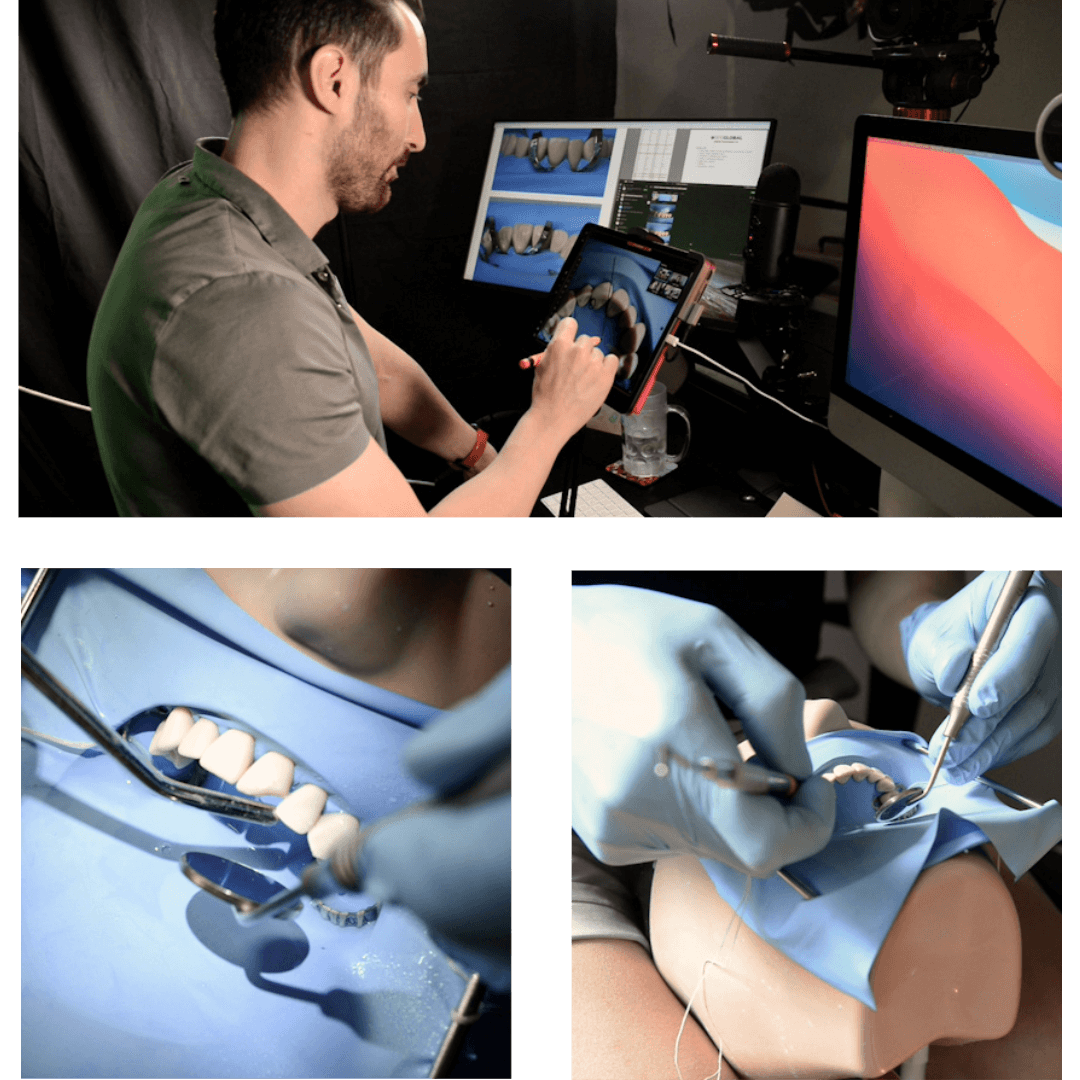 Step 3: Delivery
You can't become confident in a new skill when you only do it once. So, why is it that most hands-on courses are run this way?
That's why we have our dentists do it again. And again. And again. And again.
We replicate a realistic clinical scenario with our virtual hands-on simulation technology, enabling dentists to gain the hand skills required to excel in their own clinic, with their own tools.
All of this is conducted in a supportive, fail-fast environment so dentists can make mistakes and receive feedback early on in the process.
What is fail-fast? Fail-fast is our unique teaching method.
Skills are practiced multiple times against elevating stressors. The dentist will understand newly learned skills on a deep level because their memory of failing has underwritten the experience and enhanced their cognition.
All hands-on learning is supported with lectures, assessments, mentoring, case presentations and on-demand content to deliver real results, quickly.
Step 4: Continual Review
We put a strong focus on improvement and growth, which is why this program incorporates a continuous review process. This includes regular meetings with the Account Manager and RG Managing Director to track progress and identify areas for improvement. Additionally, a yearly review workshop with the RG team to provide a comprehensive overview of the program's success and help drive its evolution.
The reports can be tailored and evaluated based on the associate's advancement in the program, utilization of the credit tracker, and membership status, among other factors.
What does this look like?
Minimise Chair Down Time
The amount of chair downtime is a fraction of traditional education. It is largely why RipeGlobal education will cost you or your dentists a quarter of traditional education methods.
Complete Visibility of Growth
Our clinic dashboard allows a clinical director to see the baseline of all their dentists, the progress they are making with their education, the impact it is having on their performance, and even their clinical quality.
Attract and Retain
Attract new students and dentists early in their careers with the opportunity to develop their skills. Retain the staff you have by helping them upskill and increase their productivity while you see your clinic increase its earnings. It's as simple as that.
What's included in the Program?
Every business is different and has different needs, so this program is completely customizable to your business and associate needs.
Just talk to our Dental Program Executive to figure out what works for you.
Premium Membership

Clinician Development Tool

CPD/CE Tracker

Schedule of learning for all associates

Dental Associate management platform

Clear and consistent reporting
Monthly consulting session with RG Director

Monthly review session by Account Manager

Dedicated Customer Success Advisor

Yearly review workshop with RG Team

BONUS: Virtual Dental Residencies discounts

Optional: Co-branded portal
The right learning for each stage of development
Our dental education includes courses in restorative, implantology, aligner orthodontics, endodontics, periodontics and digital dentistry in various learning mediums. There isn't much we don't have. And if we don't have it, just ask! We are always extending our knowledge and platform to ensure we keep up with the latest procedures and technology.
Let us work with you to turn your biggest expense (dental associates) into your most significant growth opportunity with our Dental Fast Track Program.